Mobile rock climbing wall rental anywhere in Washington and Northern Oregon! We can put our climbing wall almost anywhere you want it to create an exciting fun filled experience for young and old alike.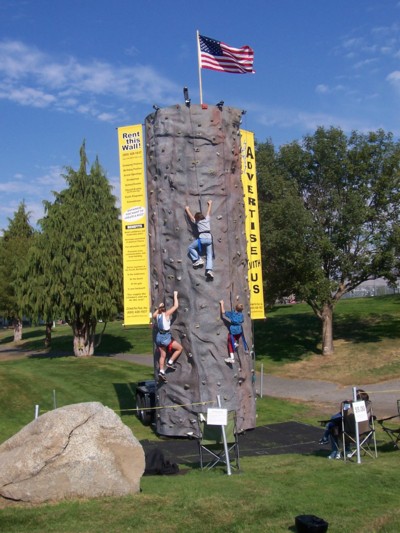 Standing twenty-four feet tall it can handle four climbers at once. The rock climbing wall has 9 different routes marked by handholds of all one color, enabling your friends to choose a climbing route that suits their desired level of difficulty.
Little kids just forget about the colored routes and grab whatever handhold they want to, and with over 240 handholds to choose from, they have no problem making it to the top.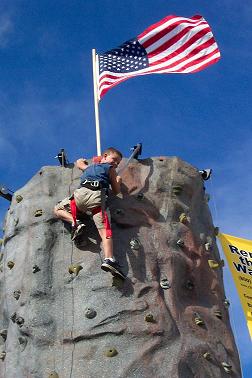 Our rock wall features the most advanced automatic safety system on the market; eliminating the need to have people hold ropes to manually belay climbers.  The automatic belaying system will gently lower climbers to the ground whenever they slip or let go of the handholds. Actually, a lot of the kids think that rappelling down the climbing wall is more fun than climbing up!
We will deliver and set up our equipment for your party or event, and then tear it down when the party's over; minimizing any hassle for you. We stay on site manning the wall to ensure a fun filled experience for everyone.
From company picnics to birthday parties, the climbing wall is great for developing self-confidence, coordination, and problem solving skills; and what a fun way to do it!
We also have a great set of squeaky clean inflatables to round out your party!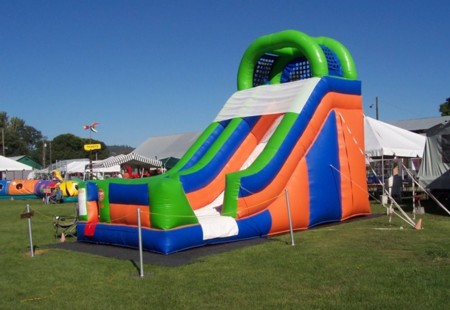 They include an 18' tall slide, a 45' long two lane obstacle course, a bouncy house, a bouncy castle, and a 50' long caterpillar with built in obstacle course for the kids to crawl through!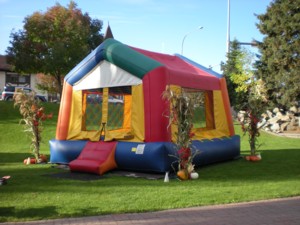 In addition to our inflatables we have a fast pitch radar booth that measures the speed at which a baseball is thrown. Kids are fascinated with it measuring their pitches at all. Teens love to compete for top pitcher. It can add yet another dimension to your party fun!
Our equipment is great for:
Company Picnics
School Events
Birthday Parties
Graduation Parties
Youth Programs
Family Reunions
Grand Openings
Church Events
Fund Raisers
Festivals
Air Shows and Fly ins
Call for rental pricing and availability. Popular dates go early so call plenty of time in advance.
Nonprofit organizations receive a 20% discount!
We have a Monday - Wednesday birthday party special on the climbing wall, 3 hours for only $295 plus mileage.
For more information call us any time at (800) 428 - 1837

A rock climbing wall and so much more, at Climb for Fun, Inc.